Weighing prospects of international shipping under Joe Biden's new administration in the United States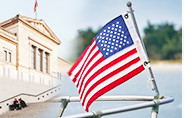 While it might be sensible to adhere the policies of the departed Trump administration in the long run for the sake of world trade, short-term interests are probably better served by Biden administration which can be expected to make symbolic gestures against China while making no serious trouble for Beijing. And that should be good for shipping for two or three years at least.

Given the campus radicalism that has emanated from the White House and the 51 per cent approval rating for socialism among Democrats, as well as control of the House of Representatives and a de facto of Democratic majority in the Senate given that the deciding vote can be cast by its Democrat president, Vice President Kamila Harris, Republicans have little to cheer about.

Add to that plans to make Washington, DC a state with its civil service population reliably voting Democrat and well as ambitions to grant statehood to perpetually impoverished Puerto Rico, the citizens of which can also be counted on to vote Democrat, prospects for de-regulating Republicans look bad. And with outright control of the House of Representatives and de facto control of the Senate, the administration can, unlike the Trump regime, do as it pleases.

Combine this buttressing of the Democrat political machine and strengthening the grip of bureaucracies, not only in the United States, but worldwide, one can expect closer cooperation with China via their shared embrace of multilateral decision making, and we can discern a clearer vision of the future.

It is a vision that certainly dovetails with that of President of China, Xi Jinping, as presented before the good and the great at the World Economic Forum at Davos in Switzerland.

"First," said President Xi, "we should stay committed to openness and inclusiveness instead of closedness and exclusion. Multilateralism is about having international affairs addressed through consultation, and the future of the world decided by everyone working together. To build small circles, or start a new Cold War; to reject, threaten, or intimidate others; to willfully impose decoupling, supply disruption, or sanctions; and to create isolation or estrangement, will only push the world into division and even confrontation.

"We cannot tackle common challenges in a divided world. Confrontation will lead us to a dead end. Humanity has learned lessons the hard way and that history is not long gone. We must not return to the path of the past. The right approach is to act on the vision of a community with a shared future for mankind. We should uphold the common values of humanity, namely peace, development, equity, justice, democracy and freedom, rise above ideological prejudice, make the mechanisms, principles, and policies of our cooperation as open and inclusive as possible, and jointly safeguard world peace and stability," said President Xi.

"We should build an open world economy, uphold the multilateral trading regime, discard discriminatory and exclusionary standards, rules, and systems, and take down barriers to trade, investment, and technological exchanges. We should strengthen the G20 as a premier forum for global economic governance, engage in closer macroeconomic policy coordination, and keep the global industrial and supply chains stable and open. We should ensure the sound operation of the global financial system, promote structural reform, and expand global aggregate demand, in an effort to strive for higher quality and stronger resilience in global economic development," he said.

Sounds good - apple pie and motherhood as the Americans say of benign bromides from electioneering baby-kissing politicians. As depicted, it is if the World Economic Forum was being addressed by the forces of goodness and niceness and not the forces of meanness and nastiness. However one characterises China, the Communist Party that rules the roost is pledged to overthrow capitalism as it is engaged in a class war. And they are about to be joined by an America that has all but embraced the same class struggle as a modus vivendi that is little different in spirit from the motivating spirit of communists worldwide.

So when one looks at President Xi's urgings to "rise above ideological prejudice", this will be easier for some than others. Some do not think of political opponents to be debated, but rather treated as a diseased and ought to be cured or eradicated. There is a governing meme in today's Biden regime that does not respect the US constitutional protections of free speech - and one finds little difference in the beliefs between the rhetoric of Biden's progressive Washington and the CCP's Beijing of Mr Xi.

Then let us consider, what President Xi said about the rule of law. "We should stay committed to international law and international rules instead of seeking one's own supremacy."

One might consider the wisdom of trusting such a sentiment coming from a country that flouted the ruling of the Permanent Court of Arbitration in the Hague condemning the seizure and fortification of the Spratly Islands athwart the Asia-Europe trade lane, declaring "there was no legal basis for China to claim historic rights within the sea areas falling within the 'nine-dash line".

Said President Xi: "Ancient Chinese believed that the law is the very foundation of governance."

Maybe before the Communist triumph in 1948 - but certainly not since. There was no independent judiciary in China outside Hong Kong and Taiwan. Closed mainland courts dealt independently with matters that did not interest the hierarchy. If they did, the powerful would decide outcomes.

President Xi continues: "We need to be resolute in championing the international rule of law and steadfast in our resolve to safeguard the international system centred around the UN and the international order based on international law."

Note the "thee but not me" aspect of the statement. True rule of law means the courts have an ability to restrain the state. First, there is no rule of law that will restrain the Chinese Communist Party domestically. And given that China flouted The Hague court in the matter of the Spratly Islands seizure and fortification, there is little reason to think that Beijing will bow to international conventions if it does not suit its interests.

While a cursory glance at a decade of history, the bullying of Australia and New Zealand, the less benign side of President Xi's Belt and Road initiative gives more reasons to credit China's declared beliefs at Davos, there is still every reason to expect a detente between the US and China will be good for shipping at least until the midterm elections in 2022.