Digitisation lessons learned in the Covid crisis, but can we apply them to shipping thereafter?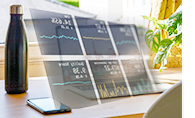 A look through the "macroscope" since Chinese New Year, after world shipping undergoes its annual convulsion, we find the international Covid crisis has left the industry in a state few anticipated this time last year.

On one hand the world is a poorer place, having endured the worst recession since 1939 as one hopes it doesn't take World War III to pull us out of it as World War II did 80 years ago.

If nothing else, ocean carriers have learned their lesson on how to keep supply and demand within profitable limits. This has aroused the ire of Chinese officialdom, but their threats to curb skyrocketing rates have been muted by soaring China export numbers which gives Beijing less to complain about.

The Covid crisis has brought about unexpected results too. The hospitality sector worldwide has suffered greatly as have its employees. But this has led to savings and a redirection of spending that has effectively changed the economic flow patterns.

We have had digitisation capability in the past but it has never been forced upon us the way it has today, and steps to integrate it into working life and being made in such a way that will make it permanent.

Also shocks to supply chains have engulfed a wider swath of the global economy, threatening to stifle Asia's trade-led recovery just as soaring freight rates make it harder for businesses to weather another Covid-wracked year.

While shortages of paper towels and work-from-home gear early in the crisis have subsided there have been shortfalls in one of the most globally integrated of industries: auto manufacturing.

Volkswagen was forced cut production plans at the world's largest car factory in Germany and warned supply constraints might spread globally, while Honda had to reduce output at five North American factories as it struggles to procure chips used to make cars.

Said Nomura Singapore analyst Rob Subbaraman: "Supply-side bottlenecks are more pronounced in the US and Europe where supply delivery times are slowing. This should result in a sharper drawdown in inventories and upward pressure on output prices."

What's more, industrial imbalances are transport woes plaguing consumer and health-care sectors still dealing with a dearth of available shipping containers to move components and finished products out of China, Taiwan, South Korea and Asia's other exporting economies.

Nerijus Poskus, vice president for global ocean at San Francisco-based freight forwarder Flexport, reckons the world needs 500,000 more TEU to satisfy demand. But with transpacific rates rising quadruple what they were a year ago, things are becoming untenable. And that's before equipment surcharges and premiums for guaranteed loading are added.

"Anyone paying the freight bills in 2020 though knows the true cost of shipping is much higher than even the recently increased rates," Mr Poskus said. "We expect that to only increase in 2021."

High container rates "may factor in for the rest of the year," even if the current disruptions get ironed out, said Chris Rogers, lead trade analyst for S&P Global Market Intelligence's Panjiva. "Companies that have seen much higher shipping costs are either going to have to swallow that in their profits or pass it through to their customers."

Normally container rates drop 15 to 20 per cent, he said, but "that might not happen exactly the same this year because the backlog has got to be cleared."

There's a lot riding on manufacturing to drive the global economic recovery given the doldrums that tourism and hospitality are mired in. The World Bank this month warned that the rebound from the deepest recession since World War II will be slightly weaker than previously expected.

The Washington-based lender also trimmed its global trade volume growth forecast to five per cent in 2021 following a 9.5 per cent contraction last year.

Looking on the bright side, China won a record share of world trade last year and Taiwan's exports continued their double-digit recovery in the final month of 2020. The country's biggest shipping line Korean flag carrier HMM has deployed extra ships along US-bound routes and will add another ship to Europe.

The extra capacity is needed to help small companies on the receiving end. The European Freight Forwarders Association and the Europe have warned Brussels regulators of business failures this month warning of business failures if the shipping market doesn't rebalance.

Yet are there silver linings to these clouds, and to minimise injury they must be found and exploited. Yes, we all want hospitality to get on its feet and start marching again, but first things first.

At last supply and demand lessons have been learned without breaching regulations. It is unwise for carriers to make money while shippers are losing. That just brings regulatory harassment and squadrons of inspectors.

Avoid causing the creation of another regulation. A newborn regulator spawns yet another squadron of inspectors.

To sail in these regulatory seas, it seems wise to engage in much the same space saving techniques successfully applied afloat to be now applied ashore. We have consciously applied digitisation in to inter-company dealings with considerable success, slashing the paper burden.

The Covid crisis has brought on new applications. One interesting one are the "dark kitchens in Japan, whereby one orders takeaway from McDonalds, Pizza Hut, Wendy's, Burger King, for a single kitchen which serves deliverymen on electric bicycles. The cooks are trained by the franchises and make the food in the way home-delivery customers expect them to be made. When they are not working for McDonalds, they're working for Pizza Hut.

These "dark kitchens" are spotted all over the metropolitan area so that customers are always close to the one where the food is prepared, which means customers get their food piping hot.

Thus, these fast food franchises have worked together to make more money hiring fewer people and paying far less rent.

Cannot this be applied to the shipping sector through digitisation?

We have had the digitisation capability in the past. As early at 1965, Canadian communications guru, Marshall McLuhan, who introduced such concepts and the "medium is the message" and the "global village" saw it all coming.

He said the world would be run by "circuitry" No longer would great surges of commuters that he likened to Genghis Khan's hordes sweep into cities in the morning and pulse out at night. Why were they doing that, he asked as early as 1965?

Most of them come in to prepare, transmit and receive written and verbal information, he said. Why did they have to do it at one point of assembly when it could be just as well done at home without the expense of travel and dressing up?

This he felt could lead to "urban implosion" by which more office space could be used as living space, bringing more things within walking distance, making bus and tram services more frequent and less crowded.

More to the point is that the space one must provide for office personnel can be greatly reduce if not eliminated. One might even think paying people less as they would need less operate without reducing their quality of life.

And with slot costs down, price of goods might decrease. Maybe not, but it may well be possible.