Biden and Trump's China policy differ little, but indicate a testing period of key performance indicators in trade deal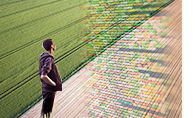 While campus radicalism gives new hope to tax and spend bureaucratic activists in today's White House, President Joe Biden's China trade policy seems little different from that of former president Donald Trump's.

Apart from making agreeable multilateral noises, saying the US will work with allies, the Biden Administration policy on China is as hardnosed as Trump's "America first" stance, noted by Australian strategic research institute, Future Directions International (FDI).

FDI cites the Biden administration's "Interim National Security Strategic Guidance" document that states "our democratic alliances enable us to present a common front, produce a unified vision, and pool our strength to promote high standards, establish effective international rules, and hold countries like China to account.'" That sounds Trumpish to many as it does not preclude a go-it-alone strategy should individual side deals with China undermine the expected common front approach.

Meeting with Quad countries - US, India, Japan and Australia - which has the hallmarks of a budding military alliance, is yet another indication of where Biden administration priorities lie.

Territorial disputes with India, Vietnam, Japan and the Philippines, the imprisoning Uyghurs in re-education camps, the flouting of Hague court rulings over the seizure of the Spratly Islands, soldiers killed in Sino-India border skirmishes, threats to Taiwan and Hong Kong, not to mention and the Chinese leader's taste for goose-stepping troops has the western world's liberal democracy nervously wonder about rearmament.

While troubled by Churchillian forebodings, the Biden administration continues to pressure China to adhere to economic and political reforms and monitor and respond to breaches in Trump's trade deal commitments.

The appointment of hardline Kathleen Tai, of Taiwanese parentage, as the new US Trade Representative, is another indication of a Biden hardline. So much so that there has been a truce between Trump's Deplorables and Biden's Beautiful People on this one and only issue without a tincture of Republican opposition to her appointment.

Thus, the Biden administration will not abandon the Phase One Trade Agreement that came into force during the Trump administration. Senior members of the Biden team have even praised the reform agenda presented in the agreement and have encouraged China to further implement the reforms that it has committed itself to.

Looking on the bright side, perhaps the West will make a multilateral assessment which may well work if various parties do not undermine each other with separate side deals. Chances are both Trump's Deplorables and Biden's Beautiful People will continue to agree that China has not been playing fair and should be put to the test before amicable relations can be restored.

But first things first. The US-China Phase One Trade Agreement came into effect on February 14, 2020, with China agreeing to increase its purchases of a range of US goods and services over a two-year period. It agreed that it would purchase an additional US$63.9 billion of goods above a 2017 baseline, over the course of 2020.

The baseline is calculated using a combination of Chinese and US trade data. Those calculations and baselines are not publicly available. Baselines and export figures will be based on US export statistics. If the 2017 baseline is calculated using those statistics, China was required to purchase at least $159 billion of goods and services in 2020. By the end of the year, however, the value of US exports of covered goods and services amounted to $99.9 billion – about 59 per cent of the target.

China came close to reaching the agricultural goods target, managing to reach 82 per cent of the $33.4 billion target, according to US export statistics. A fact sheet released by the office of the US Trade Representative (USTR) states that China agreed to import at least $80 billion of agricultural produce from the US over the deal's two-year time period.

It also states that China will strive to purchase another $5 billion of agricultural produce each year after that. China is unlikely to achieve that, even if it increases the amount of agricultural produce that it imports from the US in 2021.

The US Department of Agriculture (USDA) forecast that agricultural exports to China would reach $18.5 billion in 2020. Strong soybean and corn demand from China, however, led it to re-evaluate its forecast. US export data indicates that $27.3 billion of agricultural produce was exported to China in 2020. According to the USDA, American agricultural exports to China are expected to increase to $31.5 billion in financial year 2021.

If that occurs, China will become the largest market for US agricultural goods, a position it last held in 2017. It will still fail to reach the targets set in the trade agreement, however, unless it significantly increases its imports from the US.

If China is to adhere to the terms of the agreement, it will need to import $43.4 billion of US agricultural products in 2021. Some analysts believe that if China maintains its current purchasing rate, it could possibly reach that target. As China failed to reach the 2020 target, however, even if it manages to reach the 2021 target, it will still not have met its obligations under the terms of the deal.

The agreement does not specify what happens if China fails to reach the 2020 target. Does the shortfall get added to the 2021 target? If so, the 2021 target would be recalculated to $49.5 billion, based on US export data.

Certainly, this is the area the west, which strategically includes the Quad, must focus on while preparing for other eventualities.

Ten years ago, there was every hope that China was morphing its way towards something closer to liberal democracy. Perhaps, seeing the efficacy of commercial arbitration, the country would move towards rule of law. Such hopes have been put on the back burner if not dashed altogether, given the rise of an increasingly authoritarian if not totalitarian regime since 2013.

Cheating on trade was something of a given at the time, but tolerated as China was still officially a third world nation. But such excuses have been wearing thin as China parades as the world's second largest economy openly vies to be uber alles.

The next few months will provide time enough to see whether the standards set in the trade deal will be met. On that basis, the democracies can then set a course on how China will be regarded for good or ill.