The day approaches when Mediterranean ports will siphon off cargo bound for Northern Range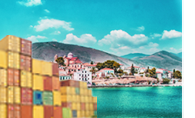 Evidence mounts that greater investment is going to be made in what might be called a Southern Mediterranean Strategy to fundamentally change traditional Asia-Europe trading patterns.

That is to say, a plan to replace, or at least reduce the dominance of Europe's Northern Range ports - from Le Havre to Hamburg - with a set of Mediterranean gateways from Piraeus to Barcelona through which imports and exports will go.

Of interest in this regard is Contship Italia Group, the Italian container terminal and intermodal branch of Eurokai, which has set out initiatives aimed at enhancing its national and international development along these lines.

The group intends to achieve more than 1.8 million TEU new handling capacity, including gateway and transshipment capabilities, which are expected to be offered to global carriers by the end of 2024.

This will include intermodal transport projected to affect 50 per cent of maritime and 50 per cent of continental/intra-EU trade by end-2023.

In making these announcements Contship reaffirmed its commitment to Italy with substantial investments planned at La Spezia Container Terminal (LSCT), the company's main Italian container terminal.

The development project will start at the Ravano terminal to realise a new 524-metre length quay equipped with five STS cranes traversing 25 rows across.

The first phase of LSCT aims to add 300,000 TEU to the current handling capacity and increase the share of rail transport from the current 32 per cent to 40 per cent of the modal split.

Short-term goals include the improvement of LSCT's capability to welcome ULCC with higher tonnage with the support of the new draft available in Fornelli East (-15 m) and Fornelli West (-14 m). This improvement will immediately support LSCT's customers with an average additional vessel capacity of 300 to 400 TEU per call.

The partners of TCR, Terminal Container Ravenna - SAPIR and LSCT, are currently discussing future investments to further develop the container terminal.

Some 15 years after the announcement of the concession agreement for Eurogate Tanger (TC2), the new Tanger Alliance terminal (TC3) in Tanger Med 2 will start its commercial operations in January 2021, deploying eight STS latest generation cranes (24 rows/54 m under spreader) on 800-metre quay and 36 hectares yards. Once completed, the terminal handling capacity will be 1.5 million TEU.

The success of both investments in Tangier rely on Contship's strong collaborations with international shipping lines such as CMA-CGM/Terminal Link in TC2 and Hapag-Lloyd at the new TC3 facility where Marsa Maroc is the majority shareholder.

Eurokai holds 40 per cent of share via Contship/Eurogate and Hapag Lloyd holds 10 per cent. New projects in the Mediterranean region are under development.

Sogemar, the intermodal-logistics and customs arm of the group is adapting its offering to the new trades and logistics challenges. Reshoring programmes and supply/demand evolutions in the maritime business are changing rapidly and Sogemar is adapting its new strategy by consolidating its leadership position on the maritime intermodal activities and expanding its continental rail offering.

Sogemar will collaborate with its sister company Eurogate Intermodal to build and promote European network services.

Rail Hub Milano (Melzo), the most advanced private Intermodal hub in Italy, in 2019 already achieved the target of 50 per cent handling operations with continental traffic (swap bodies, 45 feet intermodal units and semitrailers) and established itself as the first reliable Italian rail platform for China's new Belt and Road Initiative.

Hannibal, the group's MTO, with over 60 trains/week connecting Genoa, La Spezia and Ravenna with Melzo, Dinazzano and Padua, will continue to support the expected modal shift in the Italian port activities, expanding further to landlocked markets such as Switzerland, South Germany and Austria.

Rail Hub Milano, Hannibal and the rail traction services provided by Oceanogate Italia represent a unique integrated and independent offer to the market, supporting customers in their value proposition enhancement with sustainable transport solutions.

Benefitting from the improved Gotthard tunnel capacity and specific new investments in national and in international inland rail hubs, Hannibal will continue to expand its offering to Rotterdam and the UK for continental flows by adding new corridors in 2021 and 2022. Additional ambitious projects related to the development of digital platforms will also be announced in 2021.

"These developments will be achieved jointly with the support of Eurokai Hamburg, the controlling owner" commented by Cecilia Eckelmann-Battistello, president of Contship Italia.

What makes this revolutionary is a tendency to divert cargo from the Northern Range ports to those along the north coast of the Mediterranean, thus shortening the turnarounds from Asia-Europe transits, by eliminating the circumnavigation of the, the Iberian Peninsula, the transit across the stormy Bay of Biscay, not to mention avoiding the world's most crowded trade lane, the English Channel.

One might ask why such a thought had not occurred to shippers since the beginning of the Asia-Europe trade as a mere glance at the map makes it such an obvious choice.

What makes it less obvious 50 years ago on closer examination is something called the "blue banana", that is a consumer-rich banana-shaped trading area where most European cargo wants to go, and is reached most economically by sea.

The blue banana zone starts by covering southern England, then crossing the channel and encompassing lands east and west of the French-German border, including the low countries in the north as well as northern Italy and Austria in the south.

It's not that other have not seen these seemingly obvious advantages apparent from a mere glance at the map, but they were quickly dissuaded when considering the sparseness of affluence in the southern regions of Europe and the lack of rail and road infrastructure that is abundant in northern industrial regions.

Nonetheless, some southern European transport interests believed their day of glory would come to pass. In the year 2000, the Port of Barcelona came to Hong Kong to make the pitch to shippers. Turn your ships around in Spain and truck or rail your cargo north, Barcelona urged. But at the press conference a reporter noted that the rail gauges changed from one to another from France to Spain. What's more the roads in southern Europe were not of the scale to bear the Asia-Europe trade of even 20 years ago.

But since much has changed. As Britain has left the European Union, the attraction of the blue banana may well diminish in months and years to come, as the UK takes up closer relations with its former and culturally similar colonies, the United States, Canada, Australia and New Zealand.

More relevant, is that 20 years elapsed from that day of Port of Barcelona press conference in Hong Kong. There is now a single EU rail standard from France to Barcelona. Moreover, China Cosco has applied this southern strategy to its new thriving Greek Port of Piraeus near Athens, but serving its hinterland through the Balkans, the Ukraine, Austria and Hungary.

So what was a true stumbling block to this southern strategy in the past is no longer an obstacle to development and growth. The improved Gotthard tunnel capacity and new investments rail hubs via Switzerland to Italy has improved the prospects of the Port of La Spezia, promoting cargo flow to Rotterdam and the UK  by adding new corridors in 2021 and 2022.

This is hardly the death knell of the North Range ports because the blue banana is a wondrous thing and bound to attract cargo for decades to come. But one should not be too surprised if more tonnage shifts from north to south in years to come.