NAFTA narrows Mexican income disparity, giving more workers more to spend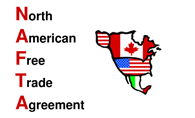 THERE is good reason to believe that northern Mexico has developed into a promising market for affordable Asian goods if research into the effects of the 1994 North American Free Trade Agreement (NAFTA) is to be credited.
"I find that men with low incomes get a boost from NAFTA in their wages while NAFTA has a negative effect for those with high incomes. Thus, trade liberalisation appears to have decreased income disparities," said Rafael Garduno Rivera, who specialises in agriculture and economic studies at the University of Illinois.
Dr Rivera's paper, "NAFTA's Distributional Effect on Mexico", also said that this trade leads to more migration since the US market appears to be increasing in importance, whereas the domestic market represented by Mexico City has become relatively less important.
Overall, there is more money in Mexico than ever before according to tradingeconomics.com which has the imprimatur of US mega tycoon Warren Buffet on every page.
"Exports jumped 11.5 per cent from a year ago to $35.6 billion while imports increased 9.5 per cent to $35.5 billion," said the financial portal.
"Exports to Mexico from China averaged $2.71 billion from 2014 until 2017, reaching an all time high of $3.38 billion in August of 2016 and a record low of $1.4 billion in February, 2014," it said, indicating just how far Latin America's second GDP earner behind Brazil.
Said Dr Rivera: "By analysing trade openness and distance to the border, I find that workers closer to the US-Mexico border get a higher wage than their counterparts far away. But this spread diminishes as tariffs reduce, after NAFTA."
Clearly, Mexican municipalities close to the US market have profited from integration, increasing their incomes, while regions further away from the United States have become more disconnected from Mexico's integration into world markets.
The effect of NAFTA since it started in 1994, he said, is also stronger with low income people than high income, because low income workers are more inclined to move, especially those who worked in trading sectors.
"In addition, urban-rural migration has also increased because most of the low skilled workers are leaving the rural and arriving to the urban regions.
And places with higher levels of infrastructure attract more of these workers since this will provide a better standard of living.
Large trading sector-induced migration, particularly in poorer regions, produce higher wages overall. But this results in increased income inequality since it only benefits workers in these sectors.
The effects of trade liberalisation, such as regional transportation benefits, have slightly increased migration towards the US-Mexico border.
"Thus, there is evidence of a "hump" of migration to the United States, as the large number of Mexicans displaced by economic restructuring led temporarily to more migration.
Economists tend to agree that trade has a positive effect overall on economic growth, but it also affects the location of economic activity, migration and the distribution of wages.
Mexico expects to benefit from its lower labour costs, and the proximity of its border regions gives northern Mexico a geographic advantage in production for the US market.
"Empirical evidence testing how NAFTA affected the north-south disparity has previously shown mixed results," said Dr Rivera.
"But trade liberalisation has not reduced territorial disparities, but rather led to a greater regional polarisation.
"NAFTA benefits those regions with poorer infrastructure, decreasing the gap between regions with higher levels of drainage and electricity and those without. We have seen evidence that NAFTA also lowered the gap between regions with high rates of high school education and those without," he said.
Another effect is that openness has increased internal migration, but this effect has diminished over time, confirming that much of the trade-generated migration happened after Mexico joined the General Agreement on Tariffs and Trade (GATT) in 1986.
"The flow of migrants to the United States has also increased due to the pull caused by the US economy over the transportation cost to get to the United States, especially in the years following the NAFTA agreement," said Dr Rivera.
Many studies confirm the benefits of free trade, but opinions vary, bringing doubts about the gains made. Even though trickle down effects are kicking in, controls are needed to reduce increased regional disparities, he said.
"Industrial, educational, and regional development policies must be quickly developed to set up the foundations for growth in all regions. This will avoid increasing inequality among households and regions," he said.
It seems clear that Mexico, at the very least its northern states, represent a new, largely untapped, a mass market that is open to Asia exports. Although today's US rhetoric is fiercely protectionist, a look at the fine print, or the actual wording of the threats made against those who wish to export jobs from the US, tends to apply to those who have plans to do so and not those who have done so.
That's leaves the vast majority of northern Mexican plants not only fully functioning with goods flowing into in to the United States, and increasingly elsewhere, and a growing amount of foreign currency flowing back - ready to be spent on Asian imports.
All in all, it seems the northern states of Mexico, are home to clusters of blooming modest prosperity, ready, willing and able to absorb an inflow of affordable wares from the Far East.