Weighing costs and benefits of California's zero emissions policy and whether wind and solar can fill the gap?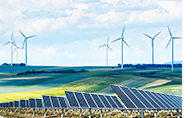 Another debate between environmentalists and those who pay the bills has been outlined in the American Journal of Transportation of Plymouth, Massachusetts.

The debate on the practicality of achieving of zero emissions by 2035, is likely to be won by environmentalists as California officialdom treats their predictions as fact and makes their recommendations the law of the land with little analysis or debate.

Nonetheless, the Pacific Merchant Shipping Association (PMSA) has commissioned a report by the engineering firm Moffat & Nichol on the ability of California's electrical grid to bear the weight of zero emission goals, given the limited output of electricity supplies.

But environmentalists take the view that increased demand will be met by improved electrical appliance technology, increased productivity at all levels, augmented by "free" power sources such a solar panels and wind farms.

But Moffat & Nichol warns: "There is concern associated with the potentially significant increased load demand on the California electrical grid, compounded by similar electrification of related transportation and manufacturing industries such as the trucks providing drayage services to California's ports."

Said PMSA president John McLaurin: "State policies requiring California's port supply chain to transition to zero-emission technologies by 2035 need to address challenges relating to providing an adequate energy grid supply coupled with resiliency to avoid significant impacts on the ability of California's supply chain to move cargo."

The Moffat & Nichol analysis is "limited to container and roll on/roll off marine terminals at San Diego, Long Beach, Los Angeles, Hueneme, San Francisco, Oakland and Richmond", but gives emphasis to zero emission goals promoted by the ports of Los Angeles and Long Beach through their Clean Air Action Plan (CAAP).

Mr McLaurin also warned  federal and state officials about moving too quickly on environmental goals in proposed infrastructure legislation: "California public officials need to review state energy and environmental policies to ensure that California jobs and businesses are not put at risk," he said.

"The combination of increased cargo demand and conversion to zero emissions cargo handling equipment (CHE) will likely result in the need for additional CHE, increase in electrical power required for CHE, and greater capacity of regional power supply. Thus, conversion to electric and battery-powered CHE will increase the burden on the electrical power grid during the peak hours," said the report.

"Of the Class 8 trucks servicing the ports of Los Angeles and Long Beach, none are battery-powered, though there are several demonstration units in operation. Battery powered Class 8 trucks will require charging capability that is not currently available. Battery powered yard tractors and charging equipment is being tested but not fully operational," it said.

On the  Clean Air Action Plan, the Moffat & Nichol report said: "As part of emission reduction efforts, California is embarked on an effort to electrify transportation, including port operations. This trend is spurred by California Air Resource Board (CARB) rulemaking, ports of Los Angeles and Long Beach's Clean Air Action Plan (CAAP) programme that includes 2030 requirements for zero emission container handling equipment (ZE CHE) operating in their terminals, and California Governor Newsom's executive order banning the sale of diesel and gasoline powered equipment starting in 2035.

"The result will be state-wide impacts for existing marine terminal operations and may lead to California requiring zero emission marine terminals that are electrical grid dependent. There is concern associated with the potentially significant increased load demand on the California electrical grid, compounded by similar electrification of related transportation and manufacturing industries such as the trucks providing drayage services to California's ports.

Electrification of all CHE will increase CHE on-terminal power demand from the current level of about 2 MW (megawatts) per one million annual TEU at most terminals to about 8.4 and 8.0 MW per one million annual TEU in 2035 and 2040, respectively. One million  MW can power between 400 and 900 US households."

Three terminals at Los Angeles and Long Beach have adopted electrification of cargo-handling operations that also automate some operations. This had drawn vigorous opposition from the International Longshore and Warehouse Union (ILWU).

Total Terminals International (TTI) in Long Beach announced plans automate the 385-acre site known as the Hanjin Terminal.

The other three terminals are at Long Beach: Long Beach Container Terminal and at Los Angeles: TRAPAC Terminal and APM Terminal. APM's automation plans met with strong opposition from the ILWU before it was implemented.

Moffat & Nichol concede that others disagree with their assessment and say they are overstating the case by understating the upside of electrification that has been accomplished so far.

Both Long Beach Container Terminal and TRAPAC terminals report that, as a result of more automated and electrified operations, average truck waiting times are under 40 minutes, half the time spent at non-automated terminals. This means that twice as many trucks can load and unload at LBCT and TRAPAC compared to the non-automated terminals, critics say.

Said LA port safety officer Alex Milley:  "Until recently I did not think that the CAAP 2030 date for transitioning to zero emission equipment was practical, but thanks to the availability of Teslas and other electric cars and the availability of electric powered cargo-handling equipment you can see that zero emission technologies are getting affordable and available."

P2S Engineering electrical engineer Ben Chavdarian said that properly applied electrical demand can substantially reduce the cost of electrical installations and maintenance for trucks and cargo-handling equipment.

Kilovolt ampere (KVA) requirement for each truck or piece of equipment properly applied "would reduce installation cost by 50 per cent to 75 per cent compared to an installation without such considerations and in some cases the maintenance cost will be eliminated altogether."

A second electrical engineer, who asked not to be identified, said that the growth in solar power in the next five years will increase electrical capacity in California so as to easily absorb new demand from California port electrification.

Troy Musgrave, director of process improvement at trucking company Dependable Highway Express (DHE), says his company deploys 100 drayage trucks that serve customers at the ports of Los Angeles and Long Beach. DHE utilises a small fleet of Volvo battery-powered trucks. Mr Musgrave says micro grids will help DHE absorb higher electric truck costs.

"We currently have several solar installations and one new system with an 864-kwh capability here in Ontario, California. The solar system backed by storage batteries will allow us to charge the batteries and use the batteries to charge the trucks at night when the sun goes down," said Mr Musgrave.

"The system can also provide electricity to the grid and reduce DHE's utility bill. So, we could eventually charge our trucks at no cost while generating revenues from sales of electricity to the grid. If trucking fleets did this all over California, we would provide Edison and PG&E with a backup power supply that would alleviate power outages and the need to contract for peak capacity suppliers during heat waves," he said.

A big worry for fleet owners is "what happens if the power goes out and what happens if there aren't enough charging stations." The answer, he says, is that the micro grid reduces the fleet's exposure by establishing an independent power source.

The PMSA/Moffat & Nichol report has provided an outline of electrical power requirements that California ports need to factor in planning for the transition to zero-emission trucks and equipment. However, electrification and increased automation are already increasing productivity at the TRAPAC terminal in Los Angeles and at Long Beach Container Terminal at Long Beach where trucks can pick up and deliver containers in half the time required at non-automated terminals.

And in the end, the move to zero emissions is a necessary and achievable goal likely to be beneficial to the ports, PMSA and ILWU, whereas the alternative most certainly is not.

Of course, the proof of the pudding is in the eating. Will  benefits outweigh the costs? That is still a question to be answered - and can probably only be answered once the lion's share of the costs have been incurred. And one recalls that the accuracy of environmentalist predictions has not been good.