Weighing long-term effects of the China-Australia economic contretemps in the months and years ahead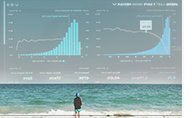 It appears that Australia is weathering its stormy weather with China, with former Labor Prime Minister Kevin Rudd, a respected Sino scholar, sounding supportive of the hard line taken by his erstwhile political opponent, sitting Liberal Prime Minister Scott Morrison.

By any measure that is an indication of a large degree of not only bi-partisan support for the hard line against Beijing, but a sign of national unity as well.

At issue is Australia's demand for an open inquiry into the origin and spread of the Covid-19 virus, which China refuses. But there is more to it than that. There is seizure and militarisation of the Spratly and Paracel Islands, the presence of Chinese warships supposedly protecting a large fishing fleet in waters in nearby Papua New Guinea waters where it is said there are not fish.

And there is that nagging discomfort - shared by western democracies in general - of doing business with a totalitarian state that runs concentration camps to de-programme Muslims and interferes with Hong Kong's internal affairs after promising not to do so until 2047 - among other things.

Although the US Democratic Party apparatchiks are okay with what China is doing, they know that their traditional supporters among the freedom-loving American working class are not.

And with their draconian public health restrictions coming under heavy pressure, they were wise enough not to stray too far from the hardline China policy even if it emanated from the hated former president Donald Trump.

First, President Joe Biden appointed Katherine Tai as US Trade Representative. Given that she is from Taiwanese immigrant family, the optics were good that she would fight the good fight.

But since that re-assuring start, she has authorised a full study of the Sino-American trade relations, which is nothing less than a technique to provide wiggle room for a change of course to justify a change of policy.

Then one adds Europe, which is singing much the same song regarding China. With such unanimity, and there is less and less odd about the former Australian PM Mr  Rudd joining the anti-China chorus. It's one thing that the bulk of the international parliamentary left and right can agree on. Mr Rudd may even be offering a harder line than  Mr Morrison. Or so it seemed not long ago to Beijing's state-run Global Times.

Noting the chill in the Sino-Free World relations, Charles Michel, head of the European Council, said countries need "to rebalance the economic relationships" with China.

"We observe that there is lack of reciprocity at the economic level, we are observing also unacceptable trade practices by China," he told Bloomberg Television.

Mr Michel stressed the importance at the same time of working with the economic giant. "We need to engage with China on some global topics. Strong ties between the US, Europe and other like-minded countries are key "to have more influence and to try to push China into a more positive behaviour."

The G-7 leaders were set to call for a fresh, transparent, World Health Organisation-convened study into the origins of this virus. Yet so far they've been vague on what exactly they want, or what they feel China failed to disclose.

Mr Rudd, a fluent Mandarin speaker, also the president of the Asia Society Policy Institute, recently delivered the Elizabeth French Hitchcock lecture at the Foreign Policy Association on the subject of "Power in the Indo-Pacific: China faces the Quad alliance - Australia, India, Japan and the US".

Mr Rudd's remarks contrasted with his past comments when he seemed reticent to publicly criticise China for its poor human rights record (Tibet, Xinjiang and Hong Kong, not to mention its constant threats against Taiwan) or its belligerence in the South China Sea.

Mr Rudd has dismissed suggestions that he exercised restraint in the past. "I've had many disagreements with China on human rights in the past," he recently told the BBC, reminding that during his first China visit as prime minister, he had delivered an address at Peking University in Chinese criticising China's human rights performance, but that he was diplomatic in his official dealings with China.

China was taken aback - judging from the editorials in its state-controlled media - by his BBC interview in which he urged countries to unite against China's growing economic and geopolitical coercion or "risk being singled out and punished by Beijing".

Chinese reaction was swift, with the English-language Communist Party's Global Times captioning a recent editorial: "Has Kevin Rudd betrayed China-Australia relations?"

Rudd's BBC interview was interpreted by  Beijing's Global Times as an indication, firstly, that Australia was feeling "increasingly uncomfortable about China's counterattack against its provocation" and, secondly, that the West's US-led anti-China campaign created such a big influence that a "political correctness" had emerged in the ideology of the West.

"Rudd is catering to these two sentiments and trends to create a political balance between himself and the Australian Labor Party," said the Global Times.

First, hit by Chinese sanctions on barley, wine, lobsters, coal and other products, Australia has, meanwhile, offset these sanctions by diversifying its markets. China, on the other hand, is heavily reliant on Australian raw materials, particularly iron ore for its steel industry. The huge demand has sent iron-ore prices soaring and Chinese importers are paying much higher iron ore prices.

Realising its own vulnerability, China is also looking at increasing the use of scrap material for its steel industry. It has set an ambitious goal of doubling steel production from its electric arc furnaces within the next half decade, generating a voracious appetite for iron ore, at least, in the medium term.

China has considered sourcing iron ore from Brazil but the sheer distance by sea route will mean a steep rise in freight costs, making imports costly. Also, prices of major Australian iron-ore producers, Rio Tinto, BHP and Fortescue, are low compared to elsewhere.

Thus, there is a semblance of power here, and with the US, however reluctantly under the new Biden information, and Canada, with its current government hostile to the growth of the English language and its speakers, will only offer foot-dragging help. The UK despite its fear of Australian farm products damaging its domestic agriculture, will do what it can with a will.