Trend toward more ocean carrier consolidation seems to be driven by environmental regulation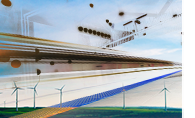 The trend to global carrier consolidation could not be more evident when one recalls that 10 shipping lines out of 20 have disappeared in the last decade - and with them, options for shippers.

To some, capacity management practices have bordered on the criminal, as carriers either inserted blank sailings or threw in extra loaders with agility unknown five years ago. Back then, desperate salesmen gave slots away to fill their ships - and in doing so, killed profitability.

But those days are long gone. Adding confusion to the mix is the Covid crisis, which first loomed as a certain disaster, but then, as it turned out to be not so bad, and then, as an amazingly good outcome as rates and demand soared. American gateway ports like Los Angeles, Long Beach, Savannah and Charleston have never had it so good.

Ever suspicious of the market's nefarious ways, China did not like rocketing rates and considered methods to reduce if not eliminate blank sailings that sustained them.

In June 2020, BIMCO's top analyst Peter Sand cautioned: "We have seen indications that rates have continued rising on routes from Shanghai to both US coasts, with east coast rates rising more than west coast rates."

Noting much the same, China's Ministry of Communications discussed refusing to allow carriers to increase rates from China to the US, and said cancelled sailings must be reinstated from October 12, 2020.

Hearing his master's voice, state-owned Cosco and its Hong Kong unit Orient Overseas Container Line (OOCL) suspended planned September 15 general rate increases on the eastbound transpacific route. The move came after Chinese regulators encouraged carriers to add capacity and be less aggressive on raising rates.

That settled things for a week or two, but the consolidation forces at play, though glacial, were constant, huge and unstoppable. The process had gone on far too long. Yes, the old Far Eastern Freight Conference had been banned by the EU as a price-fixing body in 2009, but after a time "shipping alliances" grew up in its stead.

These were not of a rate-fixing nature, though it would be many years before the European Commission raiders would be convinced of that. The EU's definition of rate collusion became esoteric, as frustratingly, not one dawn raid after another turned up anything that would convict a soul. Then merely copying the price increase of another - known as "signalling" - was tried, but it didn't fly in court.

The idea of the conference was to openly fix rates. There were putting senior executives in jail over price fixing air freight in aviation, spawning legal writs that ran far beyond a court's geographic jurisdictions. The probity of such transnational reach was questioned, but unsuccessfully, as courts found that trans-border price-fixing had more to do with the jurisdiction in which a victim lived rather than the one or more jurisdictions where the criminal transaction took place.

The continuing consolidation of ocean carriers has extended service areas and geographic coverage for the carriers within in three groups - The Alliance, 2M and Ocean Alliance - while also resulting in fewer options, higher costs, more blank sailings, and decreased customer-service for all levels of shippers.

What kept regulators happy about this new arrangement was that the salesmen would still compete with one another, serving the private separate interests of the liners they represented. That worked well enough and despite European Commission raids of shipping offices, raiders turned up little or nothing actionable. Increasingly, what salesmen were selling was much the same. It had been commoditised, as if each company were selling three grades or rice or noodles. It mattered little which one one bought.

And that was only one facet of a multi-faceted problem. Not only were ships getting bigger and thereby reducing slot costs, a ship with a 30-man crew carrying 5,000 TEU had to charge more to move container than a ship with a 20-man crew carrying 10,000 TEU - which was rapidly becoming the average size of box ships in the last few years. Such tectonic shifts in cost structures cast the individual patterns of behavior among competing salesmen into irrelevance.

Of greater relevance was the ascendency of environmental regulation, a plague that was once largely confined to California and the left coast of North America.

What was once called the UN's International Maritime Consultative Organisation (IMCO), has long since taken on a role more akin to that of a regulatory agency and was renamed the International Maritime Organisation or IMO. From its broad brush stroke beginnings, it has now moved into supervising maritime life in detail.

Its chief method is by drafting environmental regulations to limit ship speeds to reduce collisions with whales, banning ballast water dumping lest it deposit invasive species and lately a campaign to end CO2 emissions.

In the days of IMCO, rather than the IMO, shipping lines would have strenuously resisted such demands. They would have demanded statistical backing for environmental damage claims and dismissed predictions on future outcomes unless backed by evidence. But this is not the case today.

What is also evident today is the ready compliance of the shipping industry to the skyrocketing and hugely expensive demands from environmentalists. Major shipping lines even complain if smaller companies manage to evade restricting regulations, insisting on energetic enforcement.

This too can be linked to the industry's continuing consolidation. Environmental regulatory compliance costs can be easily met by major shipping lines with their vast assets and easy access to friendly banking terms. Shipping giants can see restrictive environmental rules and regulation make normal day-to-day life expensive and places such smaller players close to bankruptcy, which leaves the smaller short-sea service providers - intra-Asia operators being the most vulnerable - at risk of going out of business.

Needless to say, this harms shippers' interests and those who are the most harmed are the poorest of the poor. Needless to say, under these circumstances consolidation can only bring higher rates with greater capacity management.

In light of this clear injustice, it is difficult to know the best course to take. At the very least it seems that the smaller carriers should band together as their interests have long been eclipsed by the majors in BIMCO and the World Chamber of Shipping, since there were smaller players still up and running to voice concerns of the small fry. This is no longer so and means must be found to challenge the weak assumption upon which environmental claims are made and attack the baseless demands that sustain fashionable enthusiasms that form the foundation of environmental regulations today.