India appears to be emerging as the sourcing base for western BCOs as EU/US-Sino relations sour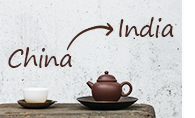 A paradigm shift is taking place in global sourcing of trade goods in a move from China to India. This is combined with a good deal of non-India re-shoring and home-shoring of manufactures bound for western markets.

While there is a general antipathy by western liberal democracies to the rightwing turn of the Anglo-American alliance, its signature hostility to China has largely been upheld by the incoming leftist Biden administration and little opposed by the Labour opposition in the UK.

As China's hard-nosed policies took hold, its seizure of the Spratly and Paracel islands athwart Asia-Europe trade lanes, its Muslim concentration camps, its flouting of Hague Court rulings, its premature intrusion into Hong Kong internal affairs, its threats to Taiwan, has induced more sourcing manufacturing to re-establish itself elsewhere.

Even the fact that has China become India's biggest trading partner can be viewed in less than a positive light as the subcontinent's role as China's trading partner has grown in relation to slowing growth of Chinese trade with the West.

As it stands, the United States has taken the hardest line in regard to China, but that is mostly a lingering facet of the Trump administration's open hostility to the behaviour of the ruling Chinese Communist Party.

The Democratic Biden administration, far less philosophically opposed to communism than the previous Republican regime, has been watering down the harsher measures Trump took against China.

Even the Biden-appointed US Trade Representative, Taiwan-born Katherine Tai, who first seemed to be upholding the old hardline, has been moving in new directions. While her intention appears to be to toughen trade policy, on closer inspection, what she suggests would more likely result in bureaucratic muddling as experts discuss ever-more distant policy options.

Said Ms Tai: "We need 2021 tools for addressing the 2021 challenges we have, rather than retrofitting them for the challenges we have now," she told the Senate Finance Committee. "There's a lot of opportunity here for us to look at problems and challenges we are facing, and devise tools." Indeed, there are.

Another sign of weakening of the Biden administration's trade policy, is its support for waiving of intellectual property rights to Covid vaccines as proposed by India and South Africa at the WTO. German Chancellor Angela Merkel opposes patent waivers as it would create "severe complications" for the production of vaccines.

Turning from the US, the European Union and India have agreed to resume long-stalled talks on a free trade deal in an effort to strengthen their economic cooperation in the face of an increasingly assertive China.

The agreement was struck at a virtual summit between EU leaders and Indian Prime Minister Narendra Modi, aimed at rebooting relations and boosting cooperation across key fields including digitisation, health and climate change.

"Europe and India are the two largest democracies in the world and our joint strategy is vital," said Portuguese Prime Minister Antonio Costa, who holds the EU's rotating presidency. "Working together we can resolve many global challenges: Covid today and also fighting climate change."

"We've not only agreed to relaunch these negotiations, we are also going to embark on strategic cooperation on connectivity, digital and transport," Mr Costa said. "These agreements are vital to relaunch the global economy."

The EU's push to deepen its ties with India as well as other Asian nations comes as tensions with China grow and sanctions against European officials call into question the bloc's recent investment pact with Beijing. The EU accounted for EUR96 billion (US$117 billion) of trade in goods and services in 2020, 11 per cent of India's total, just behind China and the US , according to the European Commission.

There is also a troubled history to review. Trade talks between the EU and India were suspended in 2013 amid persistent differences over issues like cutting tariffs, intellectual property and the rights of Indian professionals working in Europe. A deal could be a boon for the two economies as they look to rebuild after the blow dealt by Covid.

Alongside the trade talks, the sides also agreed to launch negotiations on two separate agreements on investment protection and on geographic indications - those that protect products like Champagne or Parma ham that have a specific place of origin.

Still, EU officials warn that even though there's willingness to re-engage in trade talks, progress is still slow on key issues including Indian tariffs for goods - especially cars - and intellectual property rights.

The push for a deal with Europe came days after India and the UK pledged a "quantum leap" in their relationship and said they aim to double their trade by 2030. While the announcement is part of Britain's efforts to strengthen diplomatic and economic alliances after leaving the EU, talks with New Delhi on a formal free-trade agreement are not expected to start until later this year.

Eurocrats such as Michel and Von der Leyen praised the progress in EU-India talks by calling it as "opening a new chapter for strategic partnership," and said the virtual meeting was a "milestone." Besides the resumption of trade talks, the two sides will launch parallel negotiations on an EU-India investment protection agreement and on geographic indications.

It is also clear that another goal is to sideline or confront China, particularly when the China-Europe relationship has been souring due to growing tensions after the EU took a harsh stance on China's Xinjiang concentration camps, which stymied the China-EU investment deal.

In Beijing's state-run Global Times, Tian Guangqiang, assistant research fellow with the National Institute of International Strategy at the Chinese Academy of Social Sciences, said: "That India and Europe restarted trade talks amid a souring China-EU relationship indicates a desire to counterbalance China, though the two sides hope for economic recovery through enhanced partnership."

The current stepped-up India-EU partnership signals it is more a political stance than a rush to make a deal, Mr Tian said, as India and Europe are experiencing sluggish economic recoveries and rising protectionism, which will challenge a concrete deal. He noted there are divergences that may cast shadows over a deal.

The Asian, not to mention the Austral-Asian, situation is fluid. While China remains the biggest trading nation in the region, there is a steady movement towards alternate sourcing that is bound into increase the importance of India vis-a-vis China - at least in the mid-term - or so it looks at this juncture.