How fundamentals of shipping to and from North America changed more in 10 years than in the previous 50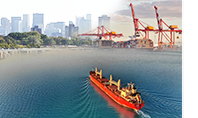 Back in 2006, Maritime Hall of Fame laureate Ron Widdows, then CEO of APL, made the entirely conventional prediction that congestion at the ports Los Angeles and Long Beach would soon become so bad that another gateway must be found to avoid a "cargo crunch".
All eyes, including Hong Kong global terminal operator Hutchison Ports' and Maersk's APM Terminals plus SSA Marine, saw Lazaro Cardenas, an obscure Mexican port 1,800 miles south of LA, as the needed safety valve, given the growth of the galloping China trade. The deep water port's big plus was that it was linked to the Kansas City Southern Railway that would take overflow cargo up through Laredo, Texas, up to Chicago for further dispersal.
Trouble was, the feared congestion never came. But what happened next was a series of issues and events that disrupted North American shipping more in the next 10 years than anything else did in the previous 50.
The first to appreciate theses tectonic shifts in the global shipping fundamentals was the Port of Savannah, an inland harbour 15 miles from the sea on Georgia's Atlantic coast with little to commend it.
But the then port boss Doug Marchand and his team didn't see it that way. "Build it and they will come," he told locals, and to Asian shippers he said: "Keep it on the water - let the ship be your warehouse."
The idea was to exploit the governing reality that 70 per cent of the US population lived east of the Mississippi River. In most people's minds, that's half way across the North American continent. But that's wrong. Look at the map again and you will find it more like two-thirds across. And that's important in terms transit time and high costs. Keeping it on the water is much cheaper.
First, there was rising dissatisfaction with the way things were, second there were opportunities that were arising from disruptive factors that were bringing enormous economies of scale to the game. Container shipping had come a long way since the first transatlantic 500-TEU ships of the early 1970s. By 2006, the 14,000-TEU Emma Maersk was the biggest ship in the world. It was a far cry from the 23,000-TEUers of today, but it pointed to the direction in which we were going.
Counterintuitively, the 500-TEUers of old had a crew of 40. By the time we got to the 14,000-TEU automation brought manning down to 23 hands. Fuel was a big cost, but that went up and down with oil shortages followed by oil gluts as Arab-led OPEC ceased to be the power it once was. With oil being discovered here and there, and the US becoming self-sufficient in oil because of fracking technology, fuel costs were more driven by international regulation than international supply and demand, a trend that put refiners rather than crude producers in the driver's seat.
The traditional way to get goods from Asia to North America was, and still is, through the west coast. There is Vancouver, British Columbia, in Canada, but despite howls of pseudo pain from Americans, 95 per of its cargo was destined for Canada. Not so Prince Rupert, 500 miles to the north. Most of its cargo goes to the US, much of it via the Canadian National Railway to Chicago for further dispersal.
Looking south first to nearby Seattle-Tacoma and Portland there are the Burlington Northern Santa Fe (BNSF) lines through the north west parallel to the Canadian border. There is also Oakland, which is more important for California's large argricultural exports.
Each of the four ports, Prince Rupert, Vancouver, Seattle-Tacoma-Portland average 3.5 million TEU a year each, totalling 10.5 million TEU. But the big numbers - 17 million TEU - come from the adjacent San Pedro Bay ports of Los Angeles and Long Beach, all have of which have suffered declines or slower growth.
Not that is of great concern because all North American imports declined 3.8 per cent last year, but this was expected due to the unusually high volumes driven by pre-tariff frontloading of cargo. This follows a November month where the annual volume decline into North America was a staggering 11.7 per cent for precisely the same reason.
But rather than soliciting cargo with inducements, the US west coast, often called the "left coast" with its card-carrying communist dockers union leader Harry Bridges, has a tradition of wanting to milk the maritime resource cow, taking no responsibility for its upkeep, saying that that is the employers concern. In this they have been successful, earning wages that top those of medical doctors in hospitals and FBI agents with law degrees. Which made a group of unskilled and semi-skilled labourers the gatekeepers of richest continent on the planet, whose goodwill was necessary for the world's producers to have access to that market.
Add to that, a leftist state government piled on regulation after regulation, backed by bureaucratic activists in the public administration working hand in glove with unions to squeeze more money from truckers serving the waterfront. Increasingly, only big business could secure the financing to meet the skyrocketing compliance costs. Result: More high-paying jobs were created, but fewer people had them as there were fewer to have and the homeless piled up in the streets of LA and San Francisco.
And having suffered its waterfront woes, unless bound for California which is bigger than Canada at 39.5 million people, the cargo now faces a long costly rail journey to east of the Mississippi where it wants to go.
Whereas, if one heeds the siren call of Savannah, one can avoid the California screaming, run through the Panama Canal and have cargo handled by dockers grateful to have it in the right-to-work State of Georgia, who transfer it on to Norfolk Southern and the CSX railways for shorter run to the south west northwest, within economic range of Houston and Chicago.
This trend was already in place, when the opening of the expanded Panama Canal in 2016 made it many times more attractive. Again economies of scale were key factors - and there were many. At first, the upper limit of ship sizes was to double from 4,500 TEU to 9,000 TEU. But with a bit of tweaking of canal dimensions and ship design, the upper limit went up to 14,000 TEU. With the average ship size now in the 10,000-TEU range, most ships could now use the canal and avoid the left coast. With the increase of ship size and the reduction of crew size, the cost per box shipped also fell. Add to that, the very growth of big box retailers and burgeoning e-tailers was based on economies of scale.
With American retail being dominated by high-volume dealers, and an increasing desire to spread the risk from one port to another, came the "Four Corners" approach. This involved major players like Walmart, Target and Hot Point, having large distribution centres located at the four corners of the continent so a blockage on one coast can be met by access through another. (European retailers are beginning to do the same thing moving some cargo through Mediterranean ports like La Spezia in Italy as well as the northern range port of Rotterdam.)
The expansion of the Suez Canal added another wrinkle to the North American inbound trade. Normally, the Suez Canal was used by those plying the Asia-Europe trade, which had been the province of the very big ships, which it continued to be. But what was increasingly happening was that after ships exited the canal with Malaysian and India subcontinent cargo and entered the Mediterranean, they would drop off a portion that cargo at wayports to be picked up in smaller ships and taken to east coast ports from Miami to Montreal, which were not big-ship ready. Montreal said most of its growth a few years ago was due to a boost from Suez cargo.
While all this was going on, given the new reality of the output from the expanded Panama Canal, Gulf and east coast ports were dredging to become big ship ready, so they too could join the bonanza Savannah had unlocked. And soon, Charleston, Virginia Ports, Baltimore, Philadelphia and New York were big-ship ready. New York did it by raising the Bayonne Bridge so the bigger ships could get under it to get to the container terminals on the other side.
Trade in and out of North American is still a work in progress. But the best laid plans, based on intolerable congestion at San Pedro Bay that would cripple the national intake America's principal trade with the world, did not happen. Lazaro Cardenas was sufficiently beefed up in preparation and today has 2.1 million TEU, jointly handled by APM Terminals, SSA Marine and Hutchison Port Holding.
Although it never was use at solving a problem that never was because of other factors, the Port of Lazaro Cardenas, made itself useful in the growth of a burgeoning Mexican economy over the years being the main gateway for Asian goods to Mexico City, which after Tokyo, Delhi and Shanghai is among the biggest cities in the world.