Long-haul over the road trucking moves to centre stage in Covid-19 and coming post-Covid-19 North America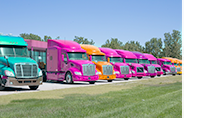 There's much talk worldwide about rail freight reducing reliance on trucking, but even in Europe where such views are amplified, the truck intrudes before any door-to-door trek is done - often twice.

Such anti-truck enthusiasms are more muted in North America, where railways, unlike those in Europe, are more extensive than intensive. That is to say, there are typically hundreds of miles between where railways go and where cargo wants go.

Thus, the truck, most often the long-haul truck, is needed to take freight from distribution centres to the many distant and wide apart retail outlets in the vast consumer-rich North American hinterland. And now with the worldwide surge of ecommerce, this is doubly so.

This has put new emphasis on long-haul trucking. A large online retailer, for instance, has suspended a last-mile delivery service to focus on truckload-shipment logistics, reports the American Journal of Transportation.

John Kearney, CEO of Florida-based Advanced Training Systems, says that move underscores the ongoing need for more trained long-haul drivers.

But it is not a bed of roses. There are 1.7 million truckers working as long-haul drivers in the US - five per cent are women.

Long haul truckers are paid mostly by the mile, not the hour. If they get caught in a traffic jam for four hours, that's four hours gone. Or if they pick up freight and shippers take five hours to load it, that's five hours gone. The clock's always ticking.

The federal 14-hour hours of service rule has created unnatural pressure. For the young fellows, after two or three months, they say the hell with it, reports the New York Times.

But such outcomes are to be avoided. An American multinational ecommerce retailer has announced the suspension of a pilot programme for delivery to consumers of packages in Los Angeles, New York, and Chicago.

"This programme was launched in 2018," said Mr Kearney. "It is now a very different world; the pandemic, and the accompanying surge in ecommerce retail have redirected attention from last-mile delivery to the more basic needs of the overall supply chain."

Mr Kearney said such a decision underscores a greater understanding of the importance of long-haul trucking to the overall supply chain.

More important, it casts into sharp relief the continual need for new drivers. The market is responding - some commercial driver's licence schools have reported an upsurge of new students - but obstacles to recruiting new truckers remain, in the form of closed licensing offices because of the Covid scare.

Although California, for instance, has recently reopened all its offices, physical distancing rules limit the number of applicants that can be processed, as well as the availability of road tests. One way or another, however, said Mr Kearney, the trucking industry will manage to attract, train, and employ the 60,000 new drivers it will need over the next few years.

"Part of the solution," he said, "is virtual-reality simulation, which both allows students to train for extreme situations and can shorten the amount of on-the-road training required. It can to produce better, safer drivers."

The fact remains that driving a truck can be a way to make a US$43,500 a year living without a college degree. It's one of the most rapidly growing occupations listed as an occupation with the most growth by the US Department of Labour. Anyone who passes all the requirements is guaranteed a job.

But there are other barriers to recruiting the needed increase in long-haul truckers. Regulatory redtape makes life on the road seriously miserable.

Generally loathed are the US hours of service (HOS) regulations, a product of the Federal Motor Carrier Safety Administration (FMCSA). Commercial motor vehicle (CMV) drivers are limited to 11 cumulative hours driving in a 14-hour period, following a rest period of no less than 10 consecutive hours.

Canadian truckers must comply with their own similar rules and regulations. Non-compliance will cause hefty fines and out-of-service orders; both costly to the company and the driver.

US drivers employed by carriers in "daily operation" may not work more than 70 hours within any period of eight consecutive days.

Drivers must maintain a daily 24-hour logbook record of duty status documenting all work and rest periods. The record of duty status must be kept current to the last change of duty status and records of the previous seven days retained by the driver in the truck and presented to law enforcement officials on demand.

Electronic on-board recorders (EOBR) can automatically record, among other things, the time the vehicle is in motion or stopped. An FMCSA ruling mandates the use of EOBRs, also known as Electronic Logging Devices (ELD).

But drivers must also, despite having an ELD spy in the cab, carry a paper log book and verify that the ELD manual and instruction sheet is in the truck. A driver must be able to email or fax the data if directed by a DOT officer. If an ELD malfunctions a driver must create a paper log to comply with the seven or eight day requirements, as well as recording vehicle inspection.

There are also reset rules, break requirements, and sleeper berth and short-haul exceptions. Truck drivers are required to keep a HOS-compliant log. Failure to produce a driver's log upon request by an enforcement official or non-compliance with HOA regulations, results in a driving penalty or fine. Some say better electronic methods for maintaining and managing drivers' logs are needed to help reduce truck driver stress.

The virtual war on trucking over the last 20 years led by ill-informed environmentalists, has really not produced a greening of overland freight. Rail has definite advantages over certain routes of great length. But in the US and Canada, where roads are better than elsewhere in the world despite cries for more infrastucture spending, trucks are best within 300 miles whatever straight comparisons or made on rates from A to B because of the intermodal transfer costs from truck to rail at the beginning of the journey and the train to truck segment at the end of the run. Not much as changed; perhaps because it shouldn't.